Hayashi M et al, Department of Gastroenterology, Fukushima Medical University School of Medicine, retrospectively reviewed clinical data of 129 individuals with biopsy-confirmed primary biliary cholangitis (PBC).
Leucine-rich α2 glycoprotein (LRG) was analyzed by enzyme-linked immunosorbent assay (ELISA) using stored sera at biopsy (n = 129) and after treatment (n = 80) and compared with biochemical test results, histological observations, and the development of cirrhosis-related conditions.

This revealed that serum LRG level of PBC was 1) higher than age matched healthy controls, 2) levels of LRG significantly decreased (55.8 μg/mL vs. 39.8 μg/mL, P < 0.001) after ursodeoxycholic acid (UDCA) treatment, 3) and Delta-LRG (the difference of LRG levels before and after UDCA treatment) was associated with the development of cirrhosis-related conditions independently with histological observations.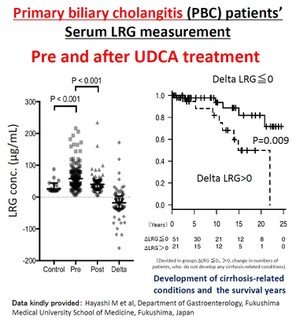 Reference:
Changes in serum levels of leucine-rich α2-glycoprotein predict prognosis in primary biliary cholangitis. Hayashi M et al. Hepatol Res. 2018 Nov 24.

This report revealed the usefulness to assess serum LRG change to predict the prognosis of PBC after treatment.

In this report our company's #27769 Human LRG Assay Kit – IBL is used to measure human serum samples. This assay is for research use only and not for diagnostic purposes.