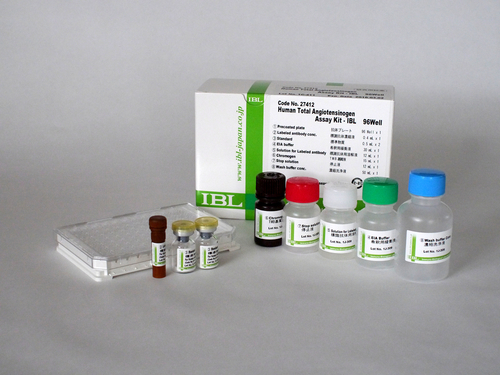 Angiotensinogen Detection
Angiotensinogen is the precursor of angiotensin and is cleaved into angiotensin I and II in the renin-angiotensin system. It has long been shown to play an important role in controlling blood pressure. Recent studies have investigated angiotensinogen as a potential marker for identifying subjects at risk for chronic kidney disease. Also in recent years, interest related to the role of the renin-angiotensin system in arterial pressure control and the pathophysiology of hypertension has been shifting to its local role in various tissues. Among the studies urinary excretion of angiotensinogen in a rat model of angiotensin II (AII)-dependent hypertension was reported to be a marker of the activity of the local intrarenal renin-angiotensin system. Intrarenal AII increases to an extent in AII-dependent hypertension that cannot be explained by the plasma AII equilibration alone, and two mechanisms, an increase in intracellular uptake of AII and an increase in intrarenal expression of angiotensinogen, have been proposed to explain it.
ELISAs for Angiotensinogen Detection
Reliable angiotensinogen assays are useful to researchers studying hypertension, the renin-angiotensin system, comparing between full-length (Intact) angiotensinogen and total angiotensinogen (Intact and DesA I) and pharmaceutical firms developing or evaluating new drugs.
The IBL ELISA kits are solid-phase sandwich ELISAs that take advantage of two highly specific antibodies; one antibody is coated onto the ELISA plate and the other is HRP-conjugated.
The Human Total and Intact Angiotensinogen Assay Kits can be used with serum, EDTA-plasma, urine, or cell culture media.
Antibodies for Angiotensinogen Detection
These affinity-purified antibodies recognize either mouse/rat or human angiotensinogen protein. The antibodies can be used for Western blot (WB) detection or immunohistochemical (IHC) detection of angiotensinogen protein.