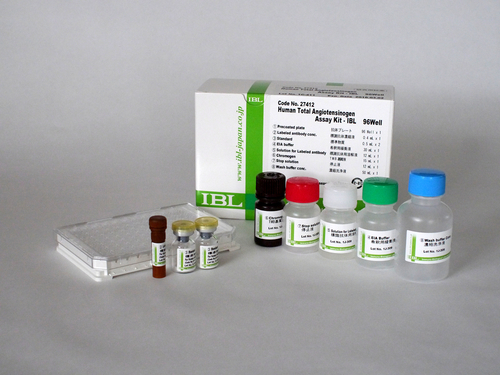 Angiotensinogen Detection
Angiotensinogen (also known as serpin peptidase inhibitor, clade A, member 8; Serpin A8, Ang, Ang II, PAT, and ANRT) is a 452-amino acid hormone precursor produced by the liver and is implicated in blood pressure control.
Urinary excretion of angiotensinogen in a rat hypertension model indicates that this protein is involved in the intrarenal renin-angiotensin system (RAS).
In response to lowered blood pressure, the enzyme renin cleaves angiotensinogen to produce angiotensin-I, which is further cleaved by angiotensin-converting enzyme (ACE) to yield the physiologically active peptide angiotensin-II.
Angiotensin-II stimulates aldosterone release, promoting sodium retention in the kidney and an increase in blood pressure. Angiotensin II is also implicated in the regulation of insulin-like growth factor 1 (IGF-1) expression.
ELISAs for Angiotensinogen Detection
These ELISA kits are solid-phase sandwich ELISAs that take advantage of two highly specific antibodies; one antibody is coated onto the ELISA plate and the other is HRP-conjugated.
The Human Total and Intact Angiotensinogen Assay Kits are ELISA kits that can be used with serum, EDTA-plasma, urine, or cell culture media.
Antibodies for Angiotensinogen Detection
These affinity-purified antibodies recognize either mouse/rat or human angiotensinogen protein. The antibodies can be used for Western blot (WB) detection or immunohistochemical (IHC) detection of angiotensinogen protein.