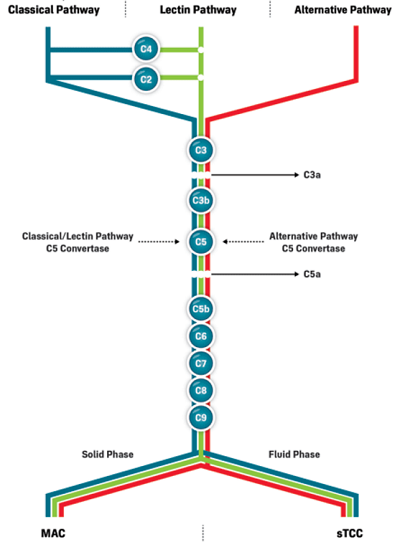 The complement system is an important part of the innate immune system. It consists of three different activation pathways - classical, alternative and lectin/MBL - and is regulated by complex protein cascades involving more than 35 proteins.
The complement system cooperates closely with the adaptive immune system and cross-talks with the coagulation system.
Having an important role in the fight against infections, and in the development of autoimmune and other diseases, the complement system is a matter of extensive research and topic of innovative and interesting new treatment regimens. Below are some examples of research use.
Drug development - potency of complement-targeted therapies
Our complement assays are recognized for their ability to assess the efficacy of complement targeted therapies, whether the aim is to inhibit or enhance complement functionality in research settings.
Clinical studies - monitoring of complement function/activity
Assessment of complement function is also valuable in the development and optimization of treatment regimens for complement related diseases. Examples are studies evaluating new treatment concepts for diseases involving the complement system, and algorithms for drugs modulating the complement system directly.
Off-target complement reactions
During some circumstances complement activation can be devastating and cause severe reactions such as off-target reactions to a drug candidate, antibody dependent complement activation (ACA), or contribute to graft rejection after transplantation.
More information on our Complement System Solutions here.